A few words about appraisal standards and ethics for personal property appraisers
Need appraisal information? Call Toll Free: (877) 255-5445
There are no state or federal licensing requirements for personal property appraisers. Only real estate appraisers require government licensing.
Consumers are often surprised to learn that anyone can say they are a personal property appraiser. Appraising institutions and educational institutions certify and accredit personal property appraisers, not the government. A certified appraiser receives this designation from a private institution. This is different from real estate appraisers who are required to certify through the Appraisal Foundation, along with state and federal licensing.
Standards for personal property appraisers were created with the same structure, but do not require state or federal licensing. In addition to their USPAP training, what is most important is formal product knowledge and industry experience.

A word of warning about "free appraisals". No one can stay in business working for free. When someone offers a "free appraisal" what they are usually offering is their opinion of how much they will pay for your item. They intend to make a profit from that item. All appraising organizations consider this a conflict of interest. 

 Also, the Better Business Bureau is not a government agency. It is a private organization that collects fees from its business members. If someone registers a complaint with the Better Business Bureau, the business must pay a fee to respond. If you really want to file a complaint, try the CALIFORNIA DEPARTMENT OF CONSUMER AFFAIRS .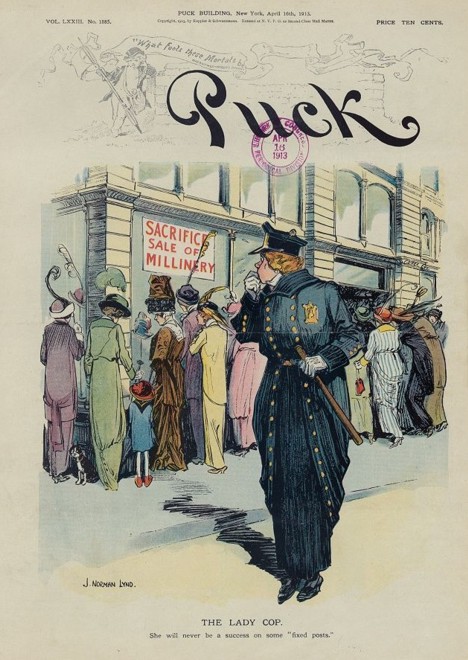 Puck Magazine cartoon showing a policewoman torn between performing her duties and attending a sale on lady's hats, 1913
Before you select an appraiser, ask some questions
 Does the personal property appraiser have formal training as an appraiser and at least two years in the industry, or do they have accreditation from an appraising organization? The IRS requires one of these options to be an IRS qualified appraiser.
Does the personal property appraiser have recent USPAP training? The Uniform Standards of Professional Appraisal Practice (USPAP), set guidelines for how an appraisal is researched and written. Real estate appraisers are required to be USPAP certified. A competent personal property appraiser should have 15 hours of USPAP training, with updates established by their respective appraising organizations. USPAP is undated every two years. Personal property appraisers should keep current with changes in both their industry and USPAP.
Is the appraiser recognized as an appraiser by their appraising organization? Membership in an appraising organization is not enough since they all offer different memberships levels. Some appraisers will list themselves as "Candidate Members" which simply means they have paid their dues, but never qualified as an appraiser with that organization. If you are in doubt, call the organization or email them to find out their status and what it means. Unfortunately, many people in our industry count on the fact that people will believe what they read on a web site. If you visit the Credentials page of this web site, you will find links to nearly every reference listed to assist you in determining the honesty and integrity with which Ms. Cinamon's credentials are represented.


Socrates was a classical Greek philosopher known for his contribution to the field of ethics
Important things to consider
While some might say that membership in an appraising organization is not important, it is the private appraising organization that makes sure that its members keep current with USPAP. They also set both educational standards and continuing educational standards for their members.
Fees based on the value of your appraisal are considered unethical. The logic behind this being that it might induce the appraiser to overvalue items to increase their fees.
An appraiser may not appraise your items, then offer to buy them. It is a conflict of interest as there is incentive to undervalue the item. At Specialty Appraisals we avoid this conflict by never buying from clients or from individuals looking for buyers. If you are looking to sell your item, please visit our Where to Sell page for a list of suggestions, but this should not be construed as an endorsement. As a potential seller, you should always check selling venues carefully. There may be any number and type of fees.
 An appraiser may not have performed services for the same client within three year of accepting a new appraisal assignment.
An appraisal is not what someone thinks they can get for something in their store, or how much it sells for on ebay. A personal property appraiser considers all relevant market data, before preparing a personal property appraisal, not just information from a single, limited source.
Sources for more information
The Appraisal Services page offers information about they types of personal property you may want to consider having appraised. There are also some downloads from the IRS, the Goodwill, and the Salvation Army to give you more information donation appraisals.
We also post articles on forum boards. If you would like a better understanding of what is meant by the word "value" you can follow the link for more information: VALUES FOR PERSONAL PROPERTY
You may also follow the link to THE APPRAISAL FOUNDATION and download of copy of their suggested criteria for personal property appraisers. Each appraising organization sets its own standards based on these recommendations.
If you are not sure if you need a personal property appraisal, we have a lot of information on the Appraise-it-yourself page. There are some pointers for fine art, jewelry, silver, and pottery. The Appraise-it-yourself page also has links to sources for  values.
For information about services and fees, call toll free: (877) 255-5445
We do not charge for travel time
We are located in Southern California (ca). We primarily cover Orange County, Los Angeles County (la), the San Gabriel Valley, the San Fernando Valley, San Bernardino County, Riverside County, the Inland Empire, the Coachella Valley, Ventura County and the Conejo Valley but arrangements can be made for larger appraisals outside of our normal service area. We do not charge for travel time.
We are happy to answer any questions you may have about our appraisal services and fees. Call toll free: (877)255-5445