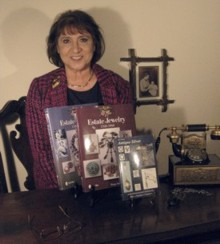 Illustrations from Estate Jewelry, 1760 to 1960
Diamond carat weight
Here's a quick tip: the diameter of a No. 2 pencil eraser is about the same size as a one carat, round-brilliant diamond. 
If you can measure your gemstone, be sure to visit the "Antique Jewelry Tips" page. There is a link to a gem-weight calculator from dendritics at the bottom of the page.
Personal property appraiser and author
Diana Sanders Cinamon is a published author and personal property appraiser. She has written two books, one about antique silver the other about antique jewelry. She is considered to be a leading authority on both subjects and brings this level of expertise to every antique appraisal and every contents appraisal. She also teaches appraisal theory at Santiago Canyon College in Orange, CA.
There are different types of appraisals
There are many different types of personal property appraisals and different types of personal property. Antique appraisals, jewelry appraisals, silver appraisals, furniture appraisals, and fine art appraisals are just a small part of our certified appraisal services. In most cases, only a portion of your contents actually require an appraisal. This applies to most insurance appraisals, estate appraisals, and divorce appraisals. The "Appraisal Services" page has more information about different types of appraisals. 
Donation appraisals and estate appraisals – things to consider
Ms. Cinamon is an IRS qualified and certified appraiser, complying with all USPAP requirements. We also provide appraisal guidelines for estate planning and donation appraisals. Ms. Cinamon has never been audited for a donation appraisal or an estate appraisal, an important consideration when choosing a personal property appraiser. We have some guidelines, along with IRS forms for donation appraisals on the Appraisal Services page of the web site. We always recommend scheduling the donation appraisal before you make the donation.
Appraisers do not appraise and then buy
To avoid potential conflicts, WE DO NOT BUY. It is a conflict of interest for an antique appraiser to appraise and offer to buy. It is considered unethical in our profession. Visit our "Where to Sell" page for some suggestions.
 Call toll free to talk about our appraisal services and fees.
(877) 255-5445 
Illustrations from All About Antique Silver with International Hallmarks.
Be sure to visit the Appraisal Services page to learn about our "gift with purchase" offer.
Specialty Appraisals ©  01/23/2015 
We provide certified appraisals in the southern California (ca) area. We cover all of Orange County, ca. A few sample cities include Orange, Anaheim, Huntington Beach, Irvine, Santa Ana, and surrounding cities. We provide certified appraisals in Los Angeles County. A few sample cities Los Angeles, Encino, Woodland Hills, Chatsworth, and Glendale (and surrounding cities). We provide certified appraisals to all of San Bernardino County, ca including: San Bernardino, Chino Hills, Redlands, Riverside, the Inland Empire, and nearby locations in both the Coachella Valley and High Desert. Please feel free to call us about services in your area.
Since we research values for your personal property appraisal in your market using the Internet, your appraisal will reflect conditions in your local area. We recognize that prices are not the same in Palm Springs, Ca or Redlands, Ca, as they are in Newport Beach, Ca, even though studies show that our clients often maintain residences in more than one location. We do not charge for travel time to most major cities in the Southern California (CA) area which includes other areas like Riverside County, the Coachella Valley, the Conejo Valley, the San Gabriel Valley or any parts of the Inland Empire. Whether you live in Calabasas or Burbank, CA personal property appraisal prices are the same. We do not charge any more for personal property appraisals in Pasadena, CA than we do for personal property appraisals in Claremont, CA or Glendora, CA. It is all part of our southern California appraisal service area. Antique appraisers in Murrieta, Fallbrook, Temecula and Wildomar are not very common. As long as our minimum appraisal fees are met, we will drive to your location and there is no charge for travel time. We can often book two appraisals in one day. This minimizes the actual travel time if for example we have an antique appraisal in Rancho Cucamonga and a fine art appraisal in Upland. Some areas are less densely populated, like San Bernardino and Riverside Counties. Redlands actually borders San Bernardino and parts of Grand Terrace. People in cities like Corona, Eastvale, and Lake Mathews understand that appraisal services like jewelry appraisals, antique appraisals, or fine art appraisals might not be available locally. It would not be unusual for clients in these areas to use the services of a certified appraiser in Orange, CA, or even Yorba Linda, Santa Ana, or Anaheim. It is easy to make a stop for a jewelry appraisal in Lake Forest if we are already in Irvine for a fine art appraisal. Certain areas like Palm Springs, Desert Hot Springs, and Lake Arrowhead are seasonal communities and will rarely have a full-time certified appraiser in their area. Those desert cities are part of the Coachella Valley. It is easy to offer appraisal services in Rancho Mirage, and then stop in Beaumont or Banning for an antique appraisal on the way back, or stop for a fine art appraisal in Indian Wells, The Conejo Valley is another area whose population is spread out. Many areas are farming communities, so potential clients in Moorpark understand that hiring an certified appraiser in Simi Valley, Thousand Oaks, or even as far east as Westlake Village, might be the closest location for a certified appraiser.San Bernardino, CA, Orange, CA and Encino, CA are areas we service on a regular basis. Again, we service most of southern California including the Inland Empire, the Coachella Valley, and the Conejo Valley.