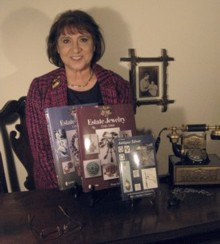 Be sure to visit the Appraisal Services page to learn about our "gift with purchase" offer.
All About Antique Silver with International Hallmarks, Diana Sanders Cinamon. This little silver book is prominently referenced on numerous sites on the Internet. Visit the Silver Tips page for a complete list.
If you can measure your gemstone, be sure to visit the Jewelry Tips page. There is a link to a gem-weight calculator from dendritics at the bottom of the page. (Here's a quick tip: the diameter of a No. 2 pencil eraser is about the same size as a one carat, round-brilliant diamond.)
Visit the Classes and Events page for more information about gemology classes taught by Ms. Cinamon at Santiago Canyon College, in Orange, CA.
Diana Sanders Cinamon is a published author and personal property appraiser. She has written two books, one about antique silver the other about antique jewelry. She is considered to be a leading authority on both subjects and brings this level of expertise to every antique appraisal and every contents appraisal. She also teaches appraisal theory at Santiago Canyon College in Orange, CA.
Ms. Cinamon is an IRS qualified and certified appraiser, complying with all USPAP requirements. We also provide appraisal guidelines for estate planning and donation appraisals. Ms. Cinamon has never been audited for a donation appraisal or an estate appraisal, an important consideration when choosing a personal property appraiser. We have some guidelines, along with IRS forms for donation appraisals on the Appraisal Services page of the web site. We always recommend scheduling the donation appraisal before you make the donation.
Ms. Cinamon has also provided expert witness testimony and litigation support, both as an individual expert witness and as part of an expert witness team of appraisers.
In most cases, only a portion of your contents actually require an appraisal. This applies to most insurance appraisals, estate appraisals, and divorce appraisals.
There are many different types of personal property appraisals and different types of personal property. Antique appraisals, jewelry appraisals, silver appraisals, furniture appraisals, and fine art appraisals are just a small part of our certified appraisal services.
Please call toll free to talk about our appraisal services and appraisal fees at:
(877) 255-5445
We do not buy. It is a conflict of interest for an antique appraiser to appraise and offer to buy. It is considered unethical in our profession. Click on the link below for some suggested sales venues:
Selling your antique and vintage items.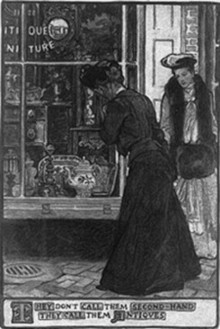 "They don't call them second-hand, they call them antiques" - Harper's Magazine, April 1903.
Don't have a gold scale? Use a postal scale. There are 28.3495 grams in a postal ounce.
Please remember to "like" this web site by clicking on the blue Facebook "like" button in the upper left hand corner or follow this link directly to the facebook page: Facebook and click on the "like" button there.